Posts for: August, 2016
By Eric T Rysner DDS, PC
August 24, 2016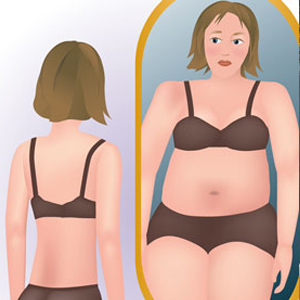 The mouth isn't an island unto itself — problems there may be indicative of deeper physical or emotional issues. Â The condition of a family member's teeth and gums, for example, could be signs of bulimia, an eating disorder.
Characterized by food binging and purging through self-induced vomiting, bulimia can also have a severe effect on the teeth. Regular inducement of vomiting introduces stomach acid into the mouth that can attack and soften the mineral content of tooth enamel. As a result, 90% of bulimics develop enamel erosion.
The erosion pattern often differs from that produced by other high acid causes like the over-consumption of sodas. Because the tongue instinctively covers the back of the bottom teeth during vomiting, they're often shielded from much of the acid wash. Bulimics are much more apt to exhibit heavier erosion on the upper front teeth, particularly on the tongue side and biting edges.
Bulimia and similar disorders produce other signs as well, like soft tissue ulceration or swollen salivary glands that exhibit puffiness of the face. The roof of the mouth, throat and back of the tongue may appear roughened from the use of fingers or objects to induce gagging.
Unlike sufferers of anorexia nervosa who tend to be negligent about their hygiene (which itself increases their risk of dental disease), bulimics have a heightened sensitivity to their appearance. This concern may prompt them to aggressively brush right after purging, which can cause more of the softened enamel to be removed.
Treating the dental consequences of bulimia requires a two-pronged approach. In the short term, we want to lessen the impact of stomach acid by discouraging the person from brushing immediately after purging — better to rinse with water and a little baking soda to buffer the acid and wait about an hour before brushing. We may also suggest a sodium fluoride mouth rinse to help strengthen and re-mineralize the enamel.
In the long-term, though, the disorder itself must be addressed through professional help. One good source is the National Eating Disorders website (nationaleatingdisorders.org). Besides information, the association also provides a toll-free helpline for referrals to professionals.
As with any eating disorder, bulimia can be trying for patients and their families. Addressing the issue gently but forthrightly will begin their journey toward the renewal of health, including their teeth and gums.
If you would like more information on the effect of eating disorders on dental health, please contact us or schedule an appointment for a consultation. You can also learn more about this topic by reading the Dear Doctor magazine article "Bulimia, Anorexia & Oral Health."
By Eric T Rysner DDS, PC
August 09, 2016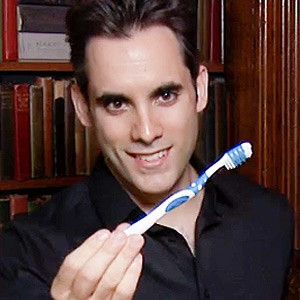 Magician Michel Grandinetti can levitate a 500-pound motorcycle, melt into a 7-foot-tall wall of solid steel, and make borrowed rings vanish and reappear baked inside bread. Yet the master illusionist admits to being in awe of the magic that dentists perform when it comes to transforming smiles. In fact, he told an interviewer that it's "way more important magic than walking through a steel wall because you're affecting people's health… people's confidence, and you're really allowing people to… feel good about themselves."
Michael speaks from experience. As a teenager, his own smile was enhanced through orthodontic treatment. Considering the career path he chose for himself — performing for multitudes both live and on TV — he calls wearing an orthodontic device (braces) to align his crooked teeth "life-changing." He relies on his welcoming, slightly mischievous smile to welcome audiences and make the initial human connection.
A beautiful smile is definitely an asset regardless of whether you're performing for thousands, passing another individual on a sidewalk or even, research suggests, interviewing for a job. Like Michael, however, some of us need a little help creating ours. If something about your teeth or gums is making you self-conscious and preventing you from smiling as broadly as you could be, we have plenty of solutions up our sleeve. Some of the most popular include:
Tooth Whitening. Professional whitening in the dental office achieves faster results than doing it yourself at home, but either approach can noticeably brighten your smile.
Bonding. A tooth-colored composite resin can be bonded to a tooth to replace missing tooth structure, such a chip.
Veneers. This is a hard, thin shell of tooth-colored material bonded to the front surface of a tooth to change its color, shape, size and/or length; mask dental imperfections like stains, cracks, or chips, and compensating for excessive gum tissue.
Crowns. Sometimes too much of a tooth is lost due to decay or trauma to support a veneer. Instead, capping it with a natural-looking porcelain crown can achieve the same types of improvements. A crown covers the entire tooth replacing more of its natural structure than a veneer does.
If you would like more information about ways in which you can transform your smile, please contact us or schedule an appointment for a consultation. You can also learn more about the techniques mentioned above by reading the Dear Doctor magazine articles "Teeth Whitening," "Repairing Chipped Teeth," and "Porcelain Crowns & Veneers."